Karün Sunglasses Information
HOW TO USE YOUR SUNGLASSES

Protection from sun radiation according to European Standard EN ISO 12312-1:2013/Amdt1:2015.
Category and type of filter: such indication (a number and a letter) can be found on the packaging or on the Bar Code sticker (at the symbol *) or as the last two characters on the temple of the glasses where the model code is found.
The number indicates the category of the filter (protection against sun glare 0=Very limited, 1=Limited, 2=Good, 3=High. for recommended use see the row of the table Tab.1 at the number); the letter indicates the type of filter (N=Normal, P=Polarized, F=Photochromatic).
For photochromatic lenses (F) the number indicates their category of use when they are tinted; when they are not tinted, they belong to 1 category lower.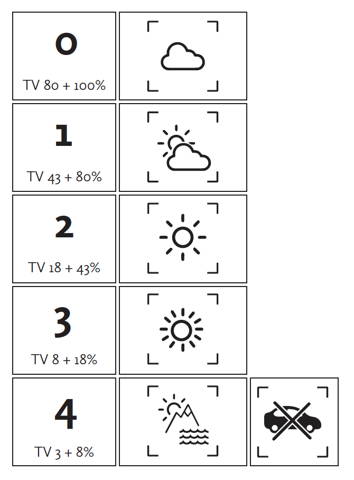 GENERAL INFORMATION - The lenses fitted in these sunglasses feature high optical precision and are impact resistant according to US FDA Reg. 21CFR801.410. The frames are made of specially designed materials to guarantee lightness, comfort and, at the same time, mechanical sturdiness.
LIMITATIONS OF USE - Not suitable for direct viewing of the sun or for viewing of solar eclipses; not suitable for use as protection against UV rays from artificial light sources (e.g. tanning beds); not suitable for use as eye protection against blows or impact; not suitable for driving at night or in poor visibility conditions.
CLEANING AND MAINTENANCE - To clean your sunglasses, use water and soap avoiding all types of solvents or alcohol. Do not use dirty or abrasive cloths which could alter the features of their filter. Use only original accessories and spare parts.
PRESERVATION - Keep in the cloth or hard case in a dry place at a temperature between -10°C and +35°C
Sunglasses Details by Model
BrandName
Model Code
Model Name
(If Any)
FrontColor
Lens Color
Lens CATEGOrIZATION
KARUN
KAOS0011
Ralún
Black
Grey
P3
KARUN
KAOS0012
Ralún
Blue
Grey
P3
KARUN
KAOS0013
Ralún
Yellow
Brown
P3
KARUN
KAOS0021
Cochamó
Black
Grey
P3
KARUN
KAOS0022
Cochamó
Green
Grey
P3
KARUN
KAOS0023
Cochamó
Yellow
Brown
P3
KARUN
KAOS0031
Puelo
Black
Grey
P3
KARUN
KAOS0032
Puelo
Red
Brown
P3
KARUN
KAOS0033
Puelo
Green
Grey
P3
KARUN
KAOS0041
Reloncaví
Black
Grey
P3
KARUN
KAOS0042
Reloncaví
Red
Brown
P3
KARUN
KAOS0043
Reloncaví
Blue
Grey
P3
KARUN
KAOS0051
Tagua Tagua
Black
Grey
P3
KARUN
KAOS0052
Tagua Tagua
Black
Brown
P3
KARUN
KAOS0053
Tagua Tagua
Blue
Grey
P3
KARUN
KAOS0061
North Atlantic
Black
Grey
N3
KARUN
KAOS0062
North Atlantic
Black
Brown
N3
KARUN
KAOS0071
Antarctic
Black
Grey
N0
KARUN
KAOS0072
Antarctic
Black
Brown
N3
KARUN
KAOS0081
South Pacific
Black
Grey
N3
KARUN
KAOS0082
South Pacific
Black
Brown
N3
KARUN
KAOS0091
Calbuco
Black
Grey
N3
KARUN
KAOS0092
Calbuco
Light Blue
Grey
N3
KARUN
KAOS0093
Calbuco
Blue
Grey
N3
KARUN
KAOS0094
Calbuco
Havana Brown
Brown
N3
KARUN
KAOS0095
Calbuco
Black
Grey
P3
KARUN
KAOS0101
Osorno
Black
Grey
N3
KARUN
KAOS0102
Osorno
Havana Brown
Brown
N3
KARUN
KAOS0103
Osorno
Blue
Grey
N3
KARUN
KAOS0104
Osorno
Black
Grey
P3
KARUN
KAOS0111
Octay
Black
Grey
N3
KARUN
KAOS0112
Octay
Blue
Grey
N3
KARUN
KAOS0113
Octay
Havana Brown
Brown
N3
KARUN
KAOS0114
Octay
Black
Grey
P3
KARUN
KATS0011
Kona
Black
Grey
P3
KARUN
KATS0012
Kona
Blue
Grey
P3
KARUN
KATS0013
Kona
Red
Brown
P3
KARUN
KATS0014
Kona
Black
Grey
P4
KARUN
KATS0021
Domo
Black
Grey
P3
KARUN
KATS0022
Domo
Blue
Grey
P3
KARUN
KATS0023
Domo
Red
Brown
P3
KARUN
KATS0024
Domo
Blue
Grey
P4
KARUN
KATS0031
Mapu
Black
Grey
P3
KARUN
KATS0032
Mapu
Blue
Grey
P3
KARUN
KATS0033
Mapu
Red
Brown
P3
KARUN
KATS0041
Toki
Black
Grey
P3
KARUN
KATS0042
Toki
Blue
Grey
P3
KARUN
KATS0043
Toki
Black
Brown
P3
KARUN
KATS0051
Alka
Black
Grey
P3
KARUN
KATS0052
Alka
Blue
Grey
P3
KARUN
KATS0053
Alka
Red
Brown
P3
KARUN
KATS0061
Lemu
Black
Grey
P3
KARUN
KATS0062
Lemu
Blue
Grey
P3
KARUN
KATS0063
Lemu
Red
Brown
P3
KARUN
KATS0071
Sailing Edition
Black
Grey
P3
KARUN
KATS0072
Sailing Edition
Black
Brown
P3
KARUN
KAUS0011
Orca
Blue
Grey
N3
KARUN
KAUS0012
Orca
Havana Brown
Brown
N2
KARUN
KAUS0013
Orca
Black
Green
N2
KARUN
KAUS0014
Orca
Light pink
Grey
N3
KARUN
KAUS0015
Orca
Blue
Grey
P3
KARUN
KAUS0016
Orca
Havana Brown
Brown
P3
KARUN
KAUS0017
Orca
Black
Green
P3
KARUN
KAUS0018
Orca
Light pink
Grey
P3
KARUN
KAUS0021
Franca
Black
Green
N3
KARUN
KAUS0022
Franca
Havana Brown
Brown
N3
KARUN
KAUS0023
Franca
Red 499C
Grey
N3
KARUN
KAUS0024
Franca
Black
Green
P3
KARUN
KAUS0025
Franca
Havana Brown
Brown
P3
KARUN
KAUS0026
Franca
Red
Grey
P3
KARUN
KAUS0031
Coipo
Black
Green
N3
KARUN
KAUS0032
Coipo
Black
Grey
N3
KARUN
KAUS0033
Coipo
Havana Brown
Brown
N3
KARUN
KAUS0034
Coipo
Black
Green
P3
KARUN
KAUS0035
Coipo
Black
Grey
P3
KARUN
KAUS0036
Coipo
Havana Brown
Brown
P3
KARUN
KAUS0041
Puma
Black
Grey
N0
KARUN
KAUS0042
Puma
Havana Brown
Brown
N3
KARUN
KAUS0043
Puma
Red
Grey
N3
KARUN
KAUS0044
Puma
Black
Grey
P3
KARUN
KAUS0045
Puma
Havana Brown
Brown
P3
KARUN
KAUS0046
Puma
Red 7628C
Grey
P3
KARUN
KAUS0051
Pingüino
White
Brown
N3
KARUN
KAUS0052
Pingüino
Yellow
Grey
N3
KARUN
KAUS0053
Pingüino
Havana Brown
G15
N3
KARUN
KAUS0054
Pingüino
White
Brown
P3
KARUN
KAUS0055
Pingüino
Yellow
Grey
P3
KARUN
KAUS0056
Pingüino
Havana Brown
Green
P3
KARUN
KAUS0061
Chilla
Black
Green
N3
KARUN
KAUS0062
Chilla
Blue
Grey
N3
KARUN
KAUS0063
Chilla
Havana Brown
Brown
N3
KARUN
KAUS0064
Chilla
Black
Green
P3
KARUN
KAUS0065
Chilla
Blue
Grey
P3
KARUN
KAUS0066
Chilla
Havana Brown
Brown
P3
KARUN
KAUS0071
Lobo
Black
Grey
P3
KARUN
KAUS0072
Lobo
Blue
Grey
P3
KARUN
KAUS0073
Lobo
Havana Brown
Brown
P3
KARUN
KAUS0074
Lobo
Black
Grey
N3
KARUN
KAUS0075
Lobo
Blue
Grey
N3
KARUN
KAUS0076
Lobo
Havana Brown
Brown
N3
KARUN
KAUS0081
Tonina
Black
Grey
N3
KARUN
KAUS0082
Tonina
Blue
Grey
N3
KARUN
KAUS0083
Tonina
Havana Brown
Brown
N3
KARUN
KAUS0091
Huemul
Black Grey
Green
N3
KARUN
KAUS0092
Huemul
Silver
Grey
N3
KARUN
KAUS0093
Huemul
Bronze
Brown
N3
KARUN
KAUS0094
Huemul
Black Grey
Green
P3
KARUN
KAUS0101
Jorobada
Black Grey
Green
N3
KARUN
KAUS0102
Jorobada
Silver
Grey
N3
KARUN
KAUS0103
Jorobada
Bronze
Brown
N2
KARUN
KAUS0104
Jorobada
Black Grey
Green
P3
KARUN
KAUS0111
Pudu
Light pink
Brown
N3
KARUN
KAUS0112
Pudú
Havana Brown
Brown
N3
KARUN
KAUS0113
Pudu
Red
Grey
P3
KARUN
KAUS0114
Pudu
Yellow
Brown
P3
NATGEO
NGOS0011
Desert
Black Grey
Green
N3
NATGEO
NGOS0012
Desert
Black Grey
Brown
N3
NATGEO
NGOS0013
Desert
Black Silver
Grey
N3
NATGEO
NGOS0014
Desert
Black Grey
Green
P3
NATGEO
NGOS0021
Meadow
Black
Grey
N3
NATGEO
NGOS0022
Meadow
Blue
Blue
N3
NATGEO
NGOS0023
Meadow
Havana Brown
Brown
N3
NATGEO
NGOS0024
Meadow
Black
Grey
P3
NATGEO
NGOS0031
Mountain
Black Grey
Green
P3
NATGEO
NGOS0032
Mountain
Blue
Grey
P3
NATGEO
NGOS0033
Mountain
Havana Brown
Brown
P3
NATGEO
NGOS0041
Valley
White
Brown
N3
NATGEO
NGOS0042
Valley
Black
Grey
N3
NATGEO
NGOS0043
Valley
Havana Brown
Brown
N3
NATGEO
NGOS0044
Valley
Havana Brown
Grey
P3
NATGEO
NGOS0051
Lake
Blue
Grey
P3
NATGEO
NGOS0052
Lake
Black
Grey
P3
NATGEO
NGOS0053
Lake
Green
Green
P3
NATGEO
NGOS0061
Forrest
Blue
Grey
P3
NATGEO
NGOS0062
Forrest
Black
Grey
P3
NATGEO
NGOS0063
Forrest
Blue
Green
P3
NATGEO
NGOS0064
Forrest
Red
Brown
P3
NATGEO
NGOS0071
Dunes
Red
Grey
P3
NATGEO
NGOS0072
Dunes
Red
Grey
P3
NATGEO
NGTS0011
Bay
Black
Green
P3
NATGEO
NGTS0012
Bay
Blue
Grey
P3
NATGEO
NGTS0013
Bay
Red
Grey
P3
NATGEO
NGTS0021
Jungle
Black
Grey
P3
NATGEO
NGTS0022
Jungle
Blue
Green
P3
NATGEO
NGTS0023
Jungle
Red
Grey
P3
NATGEO
NGUS0011
River
White
Grey
N3
NATGEO
NGUS0012
River
Red
Red
N3
NATGEO
NGUS0013
River
Black
Grey
N3
NATGEO
NGUS0014
River
White
Grey
P3
NATGEO
NGUS0021
Island
Black
Grey
N3
NATGEO
NGUS0022
Island
Blue
Grey
N3
NATGEO
NGUS0023
Island
Havana Brown
Brown
N3
ShaileneWoodley
SWFS0011
Cascade
Havana Brown
grey
P3
ShaileneWoodley
SWFS0012
Cascade
yellow
grey
P3
ShaileneWoodley
SWFS0013
Cascade
black
g-15
P3
ShaileneWoodley
SWFS0014
Cascade
redwood
brown dark pink
N3
ShaileneWoodley
SWFS0015
Cascade
green
grey
P3
ShaileneWoodley
SWFS0016
Cascade
champagne
brown
N3
ShaileneWoodley
SWFS0021
Wave
black metal
grey
N2
ShaileneWoodley
SWFS0022
Wave
dark gun metal
g-15
N3
ShaileneWoodley
SWFS0023
Wave
silver metal
grey
N2
ShaileneWoodley
SWFS0024
Wave
gold metal
g-15
N3
ShaileneWoodley
SWFS0025
Wave
dark gun metal
blue 1
N1
ShaileneWoodley
SWFS0031
Mist
Black
grey
P3
ShaileneWoodley
SWFS0032
Mist
Havana Brown
grey
P3
ShaileneWoodley
SWFS0033
Mist
fired brick
grey
N3
ShaileneWoodley
SWFS0034
Mist
toasted almond
brown
P3
ShaileneWoodley
SWFS0041
Geyser
Black Grey
grey
P2
ShaileneWoodley
SWFS0042
Geyser
Havana Brown
grey
P3
ShaileneWoodley
SWFS0043
Geyser
fired brick
grey
N3
ShaileneWoodley
SWFS0044
Geyser
toasted almond
brown
N3
ShaileneWoodley
SWFS0051
Storm
black metal
grey
N2
ShaileneWoodley
SWFS0052
Storm
dark gun metal
g-15
N3
ShaileneWoodley
SWFS0053
Storm
silver metal
grey
N2
ShaileneWoodley
SWFS0054
Storm
gold metal
g-15
N3
ShaileneWoodley
SWFS0055
Storm
silver metal
yellow
N1
ShaileneWoodley
SWFS0061
Drizzle
black
g-15
N3
ShaileneWoodley
SWFS0062
Drizzle
Havana Brown
grey
P3
ShaileneWoodley
SWFS0063
Drizzle
yellow
grey
P3
ShaileneWoodley
SWFS0064
Drizzle
toasted almond
grey
P3
ShaileneWoodley
SWFS0065
Drizzle
Sea Ice
g-15
P3
ShaileneWoodley
SWFS0066
Drizzle
ice blue
grey
P3
ShaileneWoodley
SWFS0071
Breeze
black
g-15
N3
ShaileneWoodley
SWFS0072
Breeze
Havana Brown
brown
N3
ShaileneWoodley
SWFS0073
Breeze
yellow
grey
P2
ShaileneWoodley
SWFS0074
Breeze
blue
grey
P1
ShaileneWoodley
SWFS0075
Breeze
Black
brown
P3
ShaileneWoodley
SWFS0076
Breeze
unbleached cotton
brown
P3
ShaileneWoodley
SWFS0081
Stream
pink
brown
N3
ShaileneWoodley
SWFS0082
Stream
Havana Brown
grey
P3
ShaileneWoodley
SWFS0083
Stream
redwood
grey
N3
ShaileneWoodley
SWFS0084
Stream
toasted almond
brown
N3
ShaileneWoodley
SWFS0101
Hail
fired brick
grey
P3
ShaileneWoodley
SWFS0102
Hail
yellow
grey
P3
ShaileneWoodley
SWFS0103
Hail
black
grey
P1
ShaileneWoodley
SWFS0104
Hail
Havana Brown
brown
N3
ShaileneWoodley
SWFS0105
Hail
toasted almond
brown
N3
ShaileneWoodley
SWFS0111
Current
yellow
Grey
P3
ShaileneWoodley
SWFS0112
Current
red
Grey
P3
ShaileneWoodley
SWFS0113
Current
toasted almond
Brown
N3
ShaileneWoodley
SWFS0114
Current
blue
Grey
N3
ShaileneWoodley
SWFS0121
Rain
Black Grey
Grey
N3
ShaileneWoodley
SWFS0122
Rain
gun metal
g-15
N3
ShaileneWoodley
SWFS0123
Rain
silver metal
blue 1
N1
ShaileneWoodley
SWFS0124
Rain
gold metal
g-15
N3
ShaileneWoodley
SWFS0131
Tide
Black Grey
Grey
N3
ShaileneWoodley
SWFS0132
Tide
Dark gun metal
g-15
N3
ShaileneWoodley
SWFS0133
Tide
silver metal
blue 1
N1
ShaileneWoodley
SWFS0134
Tide
gold metal
g-15
N3
ShaileneWoodley
SWFS0141
Aurora
ginger biscuit
brown
P3